May 9th, 2006: Sorry no real new information or updates or news or anything, just had to update the site, due to legal reasons our bass player has to be known as T-Stretchsack, and no longer by his real name. So while we don't normally call him Stretchsack, it will be what he is known as from now on on this site. Yayess!
September 25th, 2005: Long time no see huh? Yeah well shit happens, and then you wake up. Everyone got busy with life, drummer Steve as he is living about 3-4 hours away is working a job at home, and the rest of us are just busy or lazy, so needless to say we aren't getting much done at the moment and have postponed working on getting shows and the like. So.... tonight, rather morning as its about 5:36 a.m. I realized I was out of my medicine which helps me sleep and I'm bored as all hell, so I started listening to the old album, and looked at our site, and realized one of our songs was misnamed, now how could you go wrong with a lovely song title like "Retarded"? What once was a dreamy song named "Private Parts" which had super-slick lyrics and a funkadelic type of swing to it, became the song Retarded, with a whopping 3 lines of lyrics. So what else do you do when your recording at a studio and you just want to do something screwed up and have a little fun with it, not to mention there was a bit of alcohol going around at that recording ;). Thus was born the recorded of "Retarded" for which Barry Corman, and Derrick Miles sang their wee hearts out too, and when you get a 3 person "whoo!" you even get a chance to hear Steve from another room behind a closed door being picked up on the mic. Then I got to looking at our lyrics, and sure we posted the songs standard lyrics, but that's not how it goes on the album right? Don't you hate it when bands do that crap? So I'm gonna add a lil' bit to the end of our lyrics page, that you can reach by clicking on the "I Can't Fly" logo to see, which will include the "real" lyrics to that song, so enjoy ya wankers!
July 26th, 2005: Ya-yess we rock, after hours and hours of work, a good solid week and a half worth of recording and messing around at the Mam's House Recording Studio we have released 3 new files for your listening pleasure. Two are new songs! And one is a redone and much better and fatter sounding recording of Charlie. So we took the time to mic the guitars, T-Stretchsack busted out the ol' Pilot 5-String Bass, we took several takes and fine-tuned Barry's vocals alot during this recording (instead of the One-Take master he used to be *cough*), Steve having alot more experience with mixing and mastering and tweaking his drums just right, and now having Wally adding in guitars the sound is.... well you will just have to hear it eh?
So here goes, 3 new mp3's: Morning Star.mp3
End of Time.mp3
Charlie.mp3
July 5th, 2005: Did someone say update the site? I coulda sworn I heard someone say that, not sure who though. There also seems tew be a prooblem with typose on this paige, I have no clue what that's aboot, but if you're more worried about typos and silly inconsistencies in the site than just hearing rock hard sweaty music....... At any rate, we have been doing alot here lately to be quite honest. Lots and lots of practicing, in fact a few weekends ago up at good ol' Mam's place we practiced for a good 3 days straight if I remember correctly. And all the while, in a house with NO air conditioning, while it was in the 90's outside (that's hot btw). So we better used our shirts for soaking up sweat as opposed to covering our hot bods while we were practicing. Needless to say it was damn hot. Alas, the big news that I should have mentioned earlier, we picked up a new member! Booyah! Yeah, we got this crazy white boy named Wally hopping in playing rythm guitar and just mainly helping out alot in the guitars department to give a fuller fatter sound, allowing us to play multiple guitar parts because for some reason I never mastered the double neck guitar, nor ever purchased one. He's also helping out with writing new songs and the like, I tend to call him Walldonkey, I think his real name is Wally Wallington Wallegger, but I could be wrong, I'm sure Steve will call me within minutes of posting this update to have his correct name put up, which I will gladly put in the fine print below, see the *.
We are soon pressed to start playing some shows again, though were cleaning up our sound to perfection for the stage and getting things just perfect for our unleashing upon the world, so keep an eye out for that. Happy 4rth of July to you all too, hope you blew plenty of stuff up and didn't go overboard with the hot pink sparklers. We are also soon back in the studio to do some more recording and to lay down some of our newest and possibly some of our best songs to date (not including that song Barry wrote about a girl and a cliff... its a long sad story, really it is). Ah yes, and Barry promised something like 2 months for the house to be completed I think? Damn, what a liar, he shouldn't lie so much, kinda like that time he said the Jagmaster was bettter than the Jag-Stang, then he wound up playing his Epiphone anyways, thats what he gets for taking advice from Steve Perry about guitars, sheesh.
Thats it for now, peace!
April 2, 2005: Wow, exactly one year from the date of my last update, has it really been that long? Well truly its the 4rth right now but who cares its my site. We did however make our second weekend of practicing on the 2nd, a nice Saturday eve filled with loud obnoxious sounds. Not to mention we were visited by a spirit from the other side. You see, where we practice at is Mam's house, Mam's being Steve's great grandmother that passed away some months ago (Rest in Peace). And some right strange things happened on this night while we were trying to practice, if Steve wants I can post it up here, heck we might have neat video photage to post up here. At any rate, were trying to just play around for a bit and see where it takes us, writing new songs, trying to record some of the new song which I think can be some of our best, Barry still writes crazy lyrics yet they have this lovely warm and cuddly feeling to them as well. And dont forget to check out our sweet ass trailer we made back when recording! If you cant get it to play, then head on over to Divx.com to download the codec for it.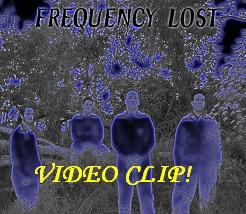 April 2, 2004: Yeah life has been keeping us all a wee bit busy, ok not so much me, but school sux, Thteven (otherwise known as Steve) has made a move, to about 3 hours away, he's the drummer btw. Our beloved old recording spot at Mam's House is no more, we had to move on out, so its back to my parents basement, heh heh. With an enormous amount of gear to move, set up, then the whole recording equipment, mic cable runs, mixer setup, recording computer setup, strippers and pole dancers, and a constant supply of Oscar Meyer (no not my dad) Lunchables Pizza Snacks... we've got alot of work to do before we can even start practicing or hope to record again.
Now for the good news, in case you didn't read the main page, I uploaded about 6 full length songs, and now I am uploading 3 unreleased of sorts, or secret songs, or songs that went bad in recording, or whatever, I'll explain them all in the downloads/music page, but go to the main page and read that crap too if you want here.
September 19, 2003: Check out our old Claw promo video we did while making the album, its 11mb so it may take a while depending on your connection, I suggest right clicking the link and saving it to your hard drive. Linky.
August 15th, 2003: been practicing, getting ready to record about 4 new songs just for keepsakes or maybe a small demo, and looking for shows around Lexington. Unfortunately it seems Lexington only likes bar rock and nothing even slightly heavy so booking is tough. Check back every week or so for possible show dates. Were thinking about hosting our own show with 4-5 bands.... just like the good ol' days. Any other bands out there interested in playing a show with us, pop us an e-mail.


It's 12 June 2003, and we have just updated our site. We added 30 more pictures to the gallery PLUS uploaded new information on our new CD. Enjoy.


Hello. On 6 June 2003, we posted our new website. Hope you enjoy it's minimal content.